Dr. Earl Henslin has a doctorate in clinical psychology and is a licensed marriage and family therapist and Christian counselor. Dr. Earl Henslin is helping individuals and families in marriage counseling, traumatic stress, addictions, abuse, ADD/ADHD and other issues, with an innovative, state of the art therapeutic approach. He is the author of seven books, and co-author of three books and numerous professional articles.
---
Dr. Henslin's Latest Books
THIS IS YOUR BRAIN IN LOVE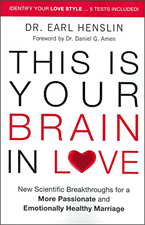 Using the latest in brain research, This Is Your Brain in Love helps couples become Master Level Lovers by encouraging each mate to bring their healthiest, most balanced and joyful self to their marriage. Dr. Henslin speaks to the vital connection between spirituality and sexuality. He identifies the five types of lovers, with ground-breaking insights and effective solutions for the challenges presented by each
Filled with relatable stories and humor, this is not your boring brain book! Engaging and practical, Dr. Henslin provides an amazingly accurate, scientifically-based brain test to help spot typical brain imbalances. (And yes, most everyone has at least one!). Bonus material offers brain-researched strategies and new hope for women dealing with hormones and men struggling with sexual addictions. more..
Your Brain in Love – Dr. Earl Henslin on Askimo TV
What is a master level lover? How can couples bring their most joyous self to their marriage? What is the connection between spirituality and sexuality? What are the symptoms of typical brain imbalances? Dr. Henslin answers these questions and more in this interview with Askimo TV. – Click here to view Video
THIS IS YOUR BRAIN ON JOY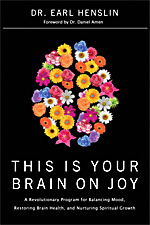 How The New Science Of Happiness Can Help You Feel Good And Be Happy
I am so excited about this book. I believe it will help people find answers to struggles they have in their personal lives, in relationships, and career. For over a decade now I have been working with SPECT brain imaging to help balance brain chemistry issues to help people with addictions, anxiety, depression, ADD, and so many other issues.
The brain does play a role in everything you do! Physical health and conditioning has long been known to help deal with stress, strengthen our immune systems, and improve self esteem. If we feel good about our physical health it does have an impact on our daily living. The stronger your physical condition the less likely you are to catch the flu, colds, etc. that make their rounds this time of year. Good physical conditioning gives us the reserve we need to meet the stresses of life. more..
Your Brain on Joy – Dr. Earl Henslin on Askimo TV
Are mood behaviour issues actually physical rather than spiritual problems? Brain health is important, but why do most people give it little thought? Is lack of joy a brain problem? What is the brain system checklist? How can we balance our brain? Click here to view Video
---
Dr. Henslin's Recent Interviews
WBCL Radio Network with Lynne Ford presents
Brain Health with Dr. Earl Henslin
---
Learn More About Dr. Earl Henslin's Private Practice
---
DrHenslin.com is an official
Amen Clinic's Brain MD Store
. We recommend the quality Amen Clinic neutraceuticals to our patients and can now offer all our visitors a 15% on orders!
Click the link above and use the promo code when you checkout and receive the special 15% discount with your order.
---